Contact Speedy Septic Today!
Serving Oregon And Washington For Over 40 Years!
Speedy Septic is dedicated to providing the most responsive, thorough, and trustworthy service for our customers in Oregon and Washington. We maintain one of the largest fleets of service truck of any local septic company, so there is always one ready to respond to your call. 
Eagle Creek
23020 SE Eagle Creek Rd
Eagle Creek, Oregon 97022

The Dalles
502 Washington Street, Suite 202
The Dalles, OR 97058

Hermiston
80752 Highway 395 N
Hermiston, OR 97838

Reset
Interactive Septic Tank
By Speedy Septic
Learn About Your Tank!
Click on a component to learn about it's function...
Input Baffle
Where sewage enters from house
Output Baffle
Wastewater goes to drainfield
Sludge Layer
also referred to as the solids layer contains all the solid material that is not supposed to leave the tank or enter any other system components. This is the material that needs to be pumped out on a regular basis.
Inspection Pipe
When pumping two-compartment septic tanks, both sides should be pumped to allow for a complete visual inspection of the tank and baffles.
Scum
The scum layer contains the grease, fat, and other non-water soluble materials that go down the drains and toilets.
Wastewater
The wastewater layer, also known as the effluent layer, contains the treated water that has cleared and can safely leave the septic tank to the next step in the septic system.
First Compartment
This is where sewage is processed. Only the clear effluent or wastewater layer should leave and go into the second compartment.
Second Compartment
This compartment contains the effluent filter which helps ensure no solids leave the tank and enter the dosing tank. Once clear effluent or wastewater enters this compartment, it will then go out into the next system component.
Air Space
Septic tanks are designed to leave some room at the top in case of a blockage or in the event a large amount of effluent water comes into the tank. It prevents backing up out of the tank lids or into the home. .
Your Comprehensive Septic Evaluation
With every septic pumping job, you'll also receive a Septic System Evaluation—a service only Speedy provides!
Do You Really Need to Pump Your Septic Tank?
Yes, you need to pump your septic tank. Neglecting to have your septic tank pumped could result in backups and eventually septic tank failure and the cost to replace a septic tank comes at a high premium–around $7,000 to $15,000.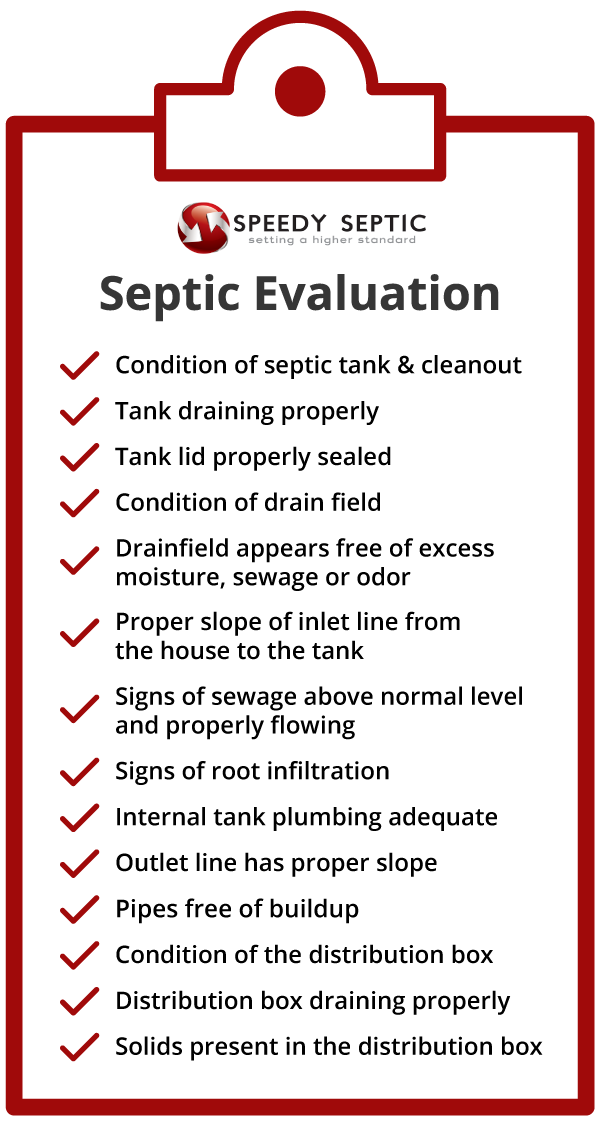 We Strive for Excellence
At Speedy Septic, we ensure we are consistently delivering our high standard of courteous, quick, and reliable septic service. Everything we do is guided by these three core values:
Speed: when your toilet won't flush or drains won't drain, every minute counts. Speedy Septic has the largest fleet of trucks in Oregon and offers service 24/7.
Integrity: Some companies conceal charges until it's too late to do anything. With Speedy Septic, we will never perform any additional work until you see and approve the estimate. And with us, you only pay for what we pump– and many of our trucks have advanced measuring equipment to determine the precise gallon extraction.
Quality: Our technicians receive continuing education, making them master troubleshooters with the expertise you can trust. They're often called in to solve problems other companies couldn't handle. Save time, money and hassle by calling Speedy Septic first.
We Are Constantly Working Towards Setting a Higher Standard
Speedy Septic is your local source for all septic services in Oregon and Washington. Our technicians are highly-experienced in septic systems, bringing over 40 years of experience combined! Our goal is to be your complete septic system provider. For quick and reliable septic services, contact Speedy Septic today!
Our Cleaner Approach for Septic Cleaning
Many septic cleaning companies use the property owners' hose to provide water for the septic pumping– which means the same hands that touch the septic tank, are touching your property. At Speedy Septic, we use our own hoses and septic pumping equipment. Our truck is also equipped with a pressure washer which enables us to thoroughly clean your tank after it is pumped. Every hose is then cleared and capped before it is rolled back up, ensuring no residual sewage spills onto your property. The waste is then recycled at our eastern Oregon treatment facility where it is eventually returned to the earth as fertilizer.
Contact in Portland OR and Vancouver WA
Also Serving Customers In These Regions
Portland Vancouver Metro
Portland OR | Gresham OR | Troutdale OR | Sandy OR | Cascade Locks OR | Clackamas OR | Happy Valley OR | Oregon City OR | Canby OR | Molalla OR | Beaverton OR | Hillsboro OR | St Helens OR | Scappoose ORThe Dalles
The Dalles OR | Hood River OR | White Salmon WA | Bingen WA | Parkdale OR | Mosier OR | Biggs Junction OR | Dufur OR

Mid-Columbia Hermiston OR | Arlington OR | Boardman OR | Umatilla OR | Irrigon OR | Pendleton OR | Tri-Cities WA | Kennewick WA | Richland WA | West Richland WA | Pasco WA