Portland / Vancouver Metro - The Dalles - Hermiston OR & Tri Cities WA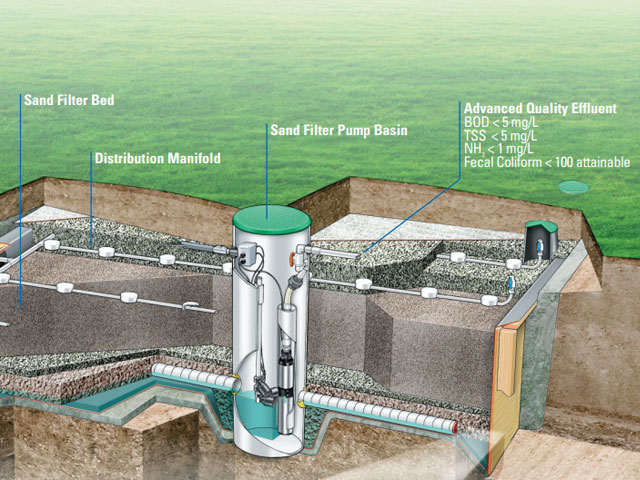 Sand filters have many moving parts and are considered the "Ferrari" of septic systems. And just like Ferraris, they require professional installation and maintenance. Speedy Septic's certified technicians are experts in sand filter systems.
What is a Sand Filter Septic System?
A sand filter system also called a recirculating sand filter or intermittent sand filter is a type of septic system. It treats wastewater very much like a standard septic system. However, wastewater drains through a layer of gravel and sand before it's absorbed back into the earth. Sand filter systems are commonly used in areas where there is insufficient soil or limited space.
Recirculating sand filter septic systems can be developed below the ground or above. They consist of these main components:
The septic tank
Pump chamber
The sand filter
Drainfield
Ready to talk to a septic system expert?
Click below and we'll call you back quickly!
How Does a Recirculating Sand Filter Work?
Wastewater from the home flows into the septic tank for treatment.
Then flows into the pump chamber.
Then it's pumped out into the sand filter for treatment.
The effluent is treated through three different purification processes while it is draining through the sand filter.

Aerobic microbes may assimilate some nutrients in the effluent
Solids are filtered out by the sand
A chemical process occurs where contaminants adhere to the grains of sand allowing biological growth on top of the sand

Treated wastewater then flows into the drainfield and down into the soil.
A replacement area that's the same size as the current drainfield should be near the current one in case it can no longer be used.
Where Do Sand Filter Systems Work Best?
It's good to consider intermittent sand filter systems in areas where there isn't a suffient amount of soil to support a conventional septic system as sand and is used to make up for the lack of soil. They are also good for properties that are close to water or that have a high water table.
Sand Filter System Maintenance
If you have a sand filter system, it is important to keep it maintained. Impermeable materials like plastic and concrete must not be placed on top of the sand filter system. This restricts airflow into the soil, affecting the treatment.
In Oregon, all new sand filter installations require semi annual maintenance that must be performed by a licensed DEQ maintenance provider to keep them functioning properly and to prevent premature failure.
Experts in Sand Filter System Installation
If you're interested in having a sand filter system installed on your property, contact Speedy Septic. We have over 25 years of experience in installing and servicing sand filters. In fact, Speedy Septic is the largest installer of septic systems in Oregon!
Back to Types of Septic Systems
Sand Filter System in Portland OR and Vancouver WA
Also Serving Customers In These Regions
Portland Vancouver Metro
Portland OR | Gresham OR | Troutdale OR | Sandy OR | Cascade Locks OR | Clackamas OR | Happy Valley OR | Oregon City OR | Canby OR | Molalla OR | Beaverton OR | Hillsboro OR | St Helens OR | Scappoose ORThe Dalles
The Dalles OR | Hood River OR | White Salmon WA | Bingen WA | Parkdale OR | Mosier OR | Biggs Junction OR | Dufur OR

Mid-Columbia Hermiston OR | Arlington OR | Boardman OR | Umatilla OR | Irrigon OR | Pendleton OR | Tri-Cities WA | Kennewick WA | Richland WA | West Richland WA | Pasco WA