Learn the Speedy Difference
Speak With a Septic Expert Today!
Septic Pumping
Portland / Vancouver Metro – The Dalles – Hermiston OR & Tri Cities WA
Speedy Septic is proud to offer comprehensive septic pumping services to homeowners and businesses in the Portland Oregon, Tri-Cities Washington, and Hermiston Oregon areas. You shouldn't have to worry about septic tank problems; let us do the worrying and the work.
When you own a septic tank, it's important to have it pumped regularly. If it gets full, there will be nowhere for the sewage to go and you'll begin experiencing backed-up drains and pooling lawns–not to mention irreversible damage to your septic system.

What Are the Signs Your Septic Tank Is Full?
Pooling water above the tank and drainfield: if your septic tank is full wastewater will begin to overflow and rise to the surface
Greener more lush grass above the septic tank and drainfield: wastewater is nutrient-rich, so if it's seeping into your lawn, you'll notice patches of greener grass
Foul odors: sometimes the signs of a full septic tank aren't seen but smelled, if you're getting a whiff off sewage in your yard or drains, it's likely sulfur
Slow drains: if your drains and toilets aren't working properly, there may be a problem with your pipes or septic system
Gurgling sounds: if you hear gurgling sounds when you run water down the drain or flush your toilet, this could be an indication that your septic tank needs to be pumped
Septic tank alert system is going off: many septic tanks are equipped with alarm systems that will alert you that your septic system is full or in need of maintenance. It could be a flashing light or loud sound
If your septic system is showing any of these signs, it may be time to have your septic system cleaned. At Speedy Septic, our technicians have over 40 years of experience in septic pumping. We'll clean your septic tank, evaluate its condition, inspect the drain field, check the distribution box, and more to make sure your septic system is operating as intended.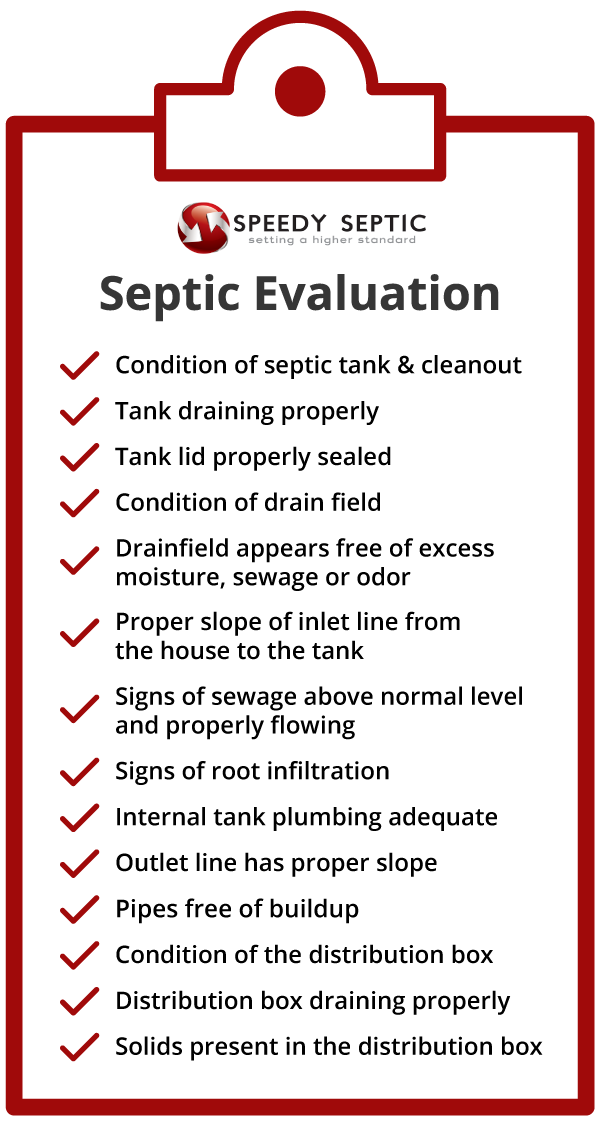 Frequently Asked Questions
Learn some of our most frequently asked questions regarding septic pumping, septic maintenance, septic inspection, and more.
How Often Should Septic Be Pumped?
Your septic system, whether it's a septic tank or holding tank, must be pumped periodically. For an average-sized household, 3-5 years is the recommended range. However, the frequency of septic cleaning depends on several factors:
The capacity of your septic tank or holding tank
Flow of wastewater
The volume of solids in wastewater (if a garbage disposal is used, more frequent pumping is required)
Number of people in your household

1 person = every 5 years
2 people = every 4 years
3 people = every 3 years
4 people = every 2 to 3 years
5 people = every 1 to 2 years
6+ people = every year

Solids ratio – In Oregon DEQ recommends pumping your septic tank or holding tank when sludge and scum take up over 35% of the tank volume
Type of septic system

Pressure distribution system: every 2 years
Simple gravity systems: every 3 years
Mound systems and other alternative systems: every year
A Speedy Septic technician will be able to determine a more exact frequency while at your property. If you're unsure when your septic system was last serviced, you can check with your county's public health center.
Where Does the Waste From Septic Tanks Go?
Once a Speedy Septic technician completes your septic pumping, the contents are taken to our Eastern Oregon treatment facility and are eventually returned to the earth as a fertilizer.
Ready to talk to a septic system expert?
Click below and we'll call you back quickly!
Benefits of Septic Cleaning
Septic systems are often out of sight and out of mind for many homeowners. But like any other essential part of your home, septic systems require proper maintenance to ensure they function efficiently. One crucial aspect of this maintenance is septic tank cleaning. Septic cleaning is a full system cleanse that removes all three layers (scum, liquid, and sludge) of waste in the tank, whereas septic pumping only removes two (scum and liquid). The benefits of septic cleaning include: 
Removes accumulated solids

 

Prevents sewage backups

 

Prevents damage from clogging

 

Extends the lifespan of your septic system

 
Homeowners are recommended to clean their septic system at least once every 3-5 years to maintain proper functionality. A more frequent cleaning schedule will be necessary if: 
You have a small or older septic:

Smaller septic tanks will fill faster, and older systems require more cleaning to prevent damage. 

You have a large family:

More people in the household means more waste and therefore will fill a septic faster. 

Improper items are flushed:

Many items such as "flushable" wipes are not safe for septic systems and can easily be introduced to your septic tank by mistake.  
Septic cleaning is an essential part of caring for your septic system. Be sure to regularly schedule
septic services
to avoid risking expensive repairs, fines, or health consequences.
Signs You Need Your Septic Tank Cleaned
Your septic tank may not be something you think about every day, but it plays a crucial role in managing your household's wastewater. Neglecting its maintenance can lead to costly problems and a stinky mess. To avoid these issues, it's essential to know the signs that your septic tank needs cleaning. 
Slow Drains:

When you notice slow drains throughout your home, it's often a sign that your septic tank is becoming clogged with solids. This slowing of wastewater flow can lead to backups and foul odors in your sinks, showers, and toilets. 

Odor Issues:

If you start to detect unpleasant odors in and around your home, it's a clear indicator that your septic tank needs attention. These odors can be especially pungent near the drain field or septic tank itself. 

Gurgling Sounds:

Unusual gurgling sounds coming from your drains or toilets when you use them can signify a problem with your septic system. It may indicate that the tank is full and needs to be pumped. 

Standing Water:

The presence of standing water in your yard, especially near the septic tank or drain field, is a cause for concern. It could indicate a leak or backup in your septic system, which requires immediate attention. 

Lush Green Grass:

While it might seem counterintuitive if the grass over your drain field suddenly becomes overly green or lush, it could signal a septic system issue. Wastewater is nutrient-dense, so exceptionally green grass can indicate a leak or overflow. 

Sewage Backup:

Perhaps the most obvious sign that your septic tank needs cleaning is a sewage backup in your home. If you notice sewage coming up through your drains or toilets, it's an emergency situation that requires

immediate professional assistance.

 

High Nitrate Levels in Well Water:

If your home relies on well water, regularly test it for high nitrate levels. Untreated sewage can contaminate your well water leading to elevated nitrate levels that indicate septic system problems. 
Regular septic tank cleaning and maintenance are essential for the proper functioning of your septic system, ensuring the health and safety of your household and the environment. Don't ignore these signs – address them promptly by scheduling a professional septic tank cleaning service.
Experts in Septic Cleaning
Septic cleaning is inevitable but what makes Speedy Septic a cut above the rest is not only our cleaner approach to the process, but if our technicians see that your system needs minor repairing, they'll perform those on the spot, saving you time and money later on.
We understand scheduling septic pumping services can be a hassle, especially if it's an emergency so we offer 24/7 customer service. To schedule your septic cleaning, give us a call today!
Septic Pumping in Portland OR and Vancouver WA
Also Serving Customers In These Regions
Portland Vancouver Metro
Portland OR | Gresham OR | Troutdale OR | Sandy OR | Cascade Locks OR | Clackamas OR | Happy Valley OR | Oregon City OR | Canby OR | Molalla OR | Beaverton OR | Hillsboro OR | St Helens OR | Scappoose ORThe Dalles
The Dalles OR | Hood River OR | White Salmon WA | Bingen WA | Parkdale OR | Mosier OR | Biggs Junction OR | Dufur OR
Mid-Columbia Hermiston OR | Arlington OR | Boardman OR | Umatilla OR | Irrigon OR | Pendleton OR | Tri-Cities WA | Kennewick WA | Richland WA | West Richland WA | Pasco WA